Alessandro Stradella is one of the most fascinating figures in 17th-century Italian music. His original and innovative style touches on all the main musical genres of the time: operas oratorios, concertos, motets, madrigals and cantatas. His great fame gave him prestigious posts in Rome, Venice, Turin and Genoa in a life marked by a series of romantic events, intrigues and love affairs.
At the crossroads of lyrical theatre and sacred drama, of  great Roman oratorio and Venetian opera, discover Stradella with the Young European Baroque Orchestra.
A concert full of life and freedom!
Violins /
Laura ALEXANDER (United-Kingdom) • CRR de Paris
Federica BASILICO (Italy) • CNSM de Lyon
Aude BEAR (France) • CRR de Paris
Veronica BERARDI (Italy) • Schola cantorum Basiliensis
Charlotte GERBITZ (Germany) • CNSM de Lyon
Naia ISHII (France) • CRR de Paris
Juliette RIDEL (France) • CNSM de Lyon
Alyssa WRIGHT (United-States) • Conservatorium van Amsterdam
Violas /
Aïk SHIN TAN (Malaysia) • CNSM de Paris
Alexandre GARNIER (France) • CRR de Paris
Cellos /
Emanuele ABETE (Italy) • CRR de Paris
Suzanne WOLFF (France) • CRR de Paris
Double basses /
Alexandre TEYSSONNIERE DE GRAMONT (France) • CNSM de Paris
Harpshichord & organ /
Adam SLIMANI (France) • Pôle supérieur de Boulogne-Billancourt
Archlute and guitar /
Jonathan ZEHNDER (Switzerland) • CNSM de Lyon
Bassoon /
Charlotte MACHICOT (France) • CNSM de Paris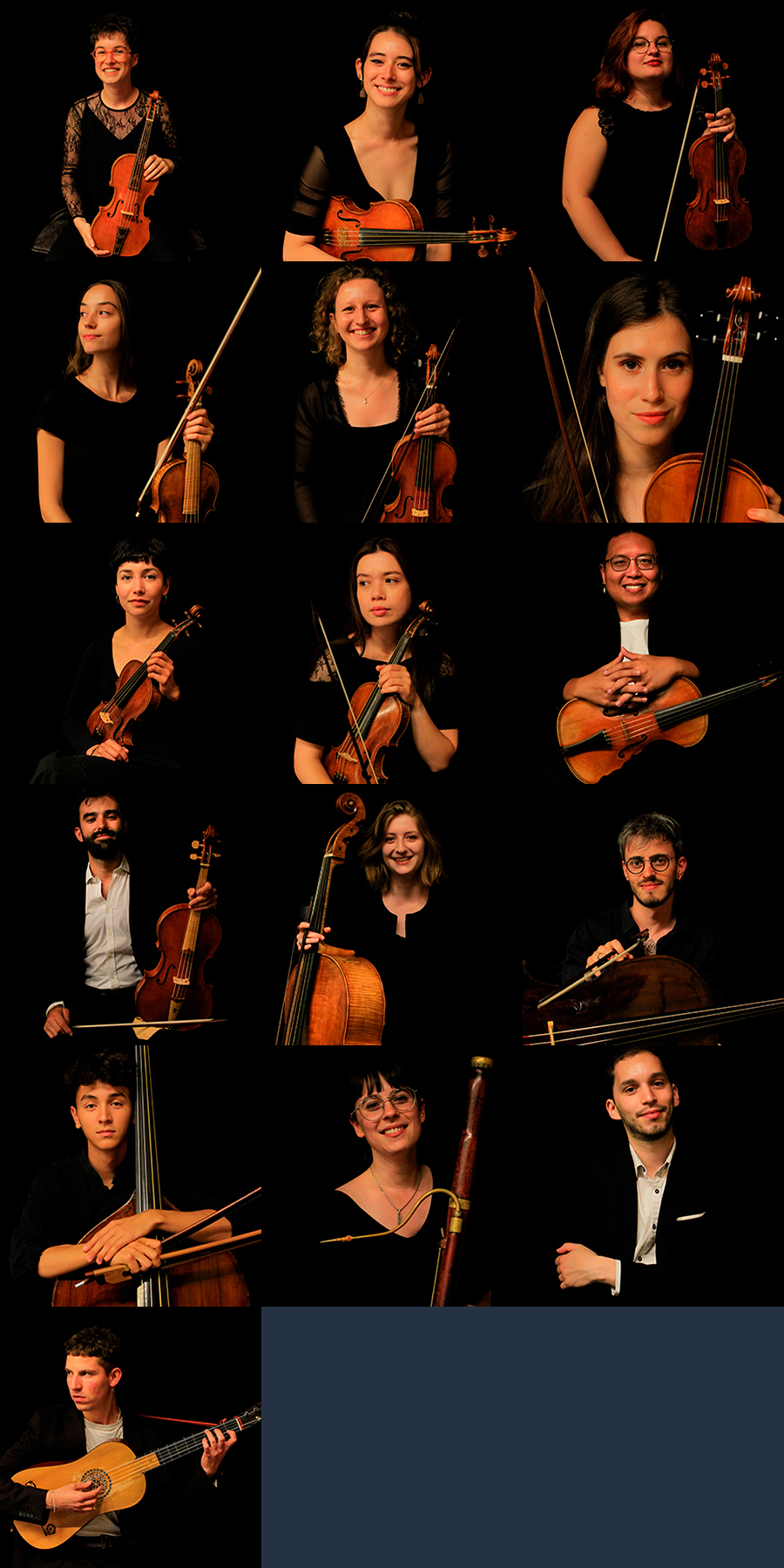 The Young baroque european orchestra 2023 is recruiting instrumentalists (on ancient or modern instruments) and singers (see conditions of registration here).
Auditions will be held at the CRR of Paris (France), the CNSM of Lyon (France), the Schola Cantorum Basiliensis (Switzerland), Conservatoire royal de Bruxelles (Belgium), Esmuc (Barcelona).
Voices involved /
Soprano, mezzo-soprano, alto (male), tenor, baritone, bass.
Instruments involved /
Violin, viola, cello, viola da gamba, double bass, bassoon, oboe/recorder, harpsichord/organ, archlute, harp
Pitch / 415 Hz
For instrumentalists, possible to play the audition on modern instrument
Audition dates /
CNSM de Lyon : 13/01/2023
Schola Cantorum de Bâle (Switzerland) : 15/01/2023
CRR de Paris : 08/02/2023
Royal Conservatory of Brussels (Belgium) : 16/02/2023
Esmuc Barcelone (Spain) : 16/02/2023

FRANCE
CNSM Lyon - 12/01/23
CRR Paris - 08/02/23
SWITZERLAND
Schola Cantorum, Basel 15/01/23
BELGIUM
Royal Conservatory, Brussels 16/02/23
SPAIN
ESMUC Barcelona 16/02/23
Admissions
1st SESSION FOR SINGERS
1st to 4th May 2023
A first training session with the singers will take place at the Centre Culturel de Rencontre of the Abbaye de Sylvanes (Aveyron, France).
2nd SESSION TUTTI
17th to 22th July 2023
A second training session will bring together singers and instrumentalists in Uzès (Gard, France).
CONCERTS
22 July 2023 - Festival of Les nuits musicales d'Uzès
27 & 28 July 2023 - Festival of CCR de l'Abbaye de Sylvanès